Councils across the UK are working hard to meet their recycling targets.
However due to the complex issues they face, local authorities have different priorities. This means there are many routes to achieve the same goals and why you find councils running different schemes and using a variety of sized containers.
We at Gardening Delights are supporting many local authorities by making our products available through local retailers and online.
We prefer it when the council gets us involved before the scheme starts so we can train our staff and retailers to advise on specific issues for individual councils. We offer practical solutions to recycling and encourage the public to embrace new recycling schemes.
In particular our support of food waste and composting schemes by the provision of compostable liners and kitchen caddies is helping to increase recycling rates. Up to 20% more people recycle food waste where they are allowed to use biodegradable and compostable liners.
Check below to see if we are helping your council and to see which products are best suited for use in your area. When you found the liner you need simply click on the link to order.
Council Caddy and Bin Liner Finder
Kitchen Caddies and Compostable Liners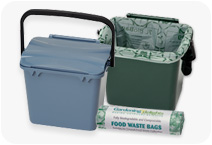 Find the perfect caddy and compostable liner for your recycling needs.